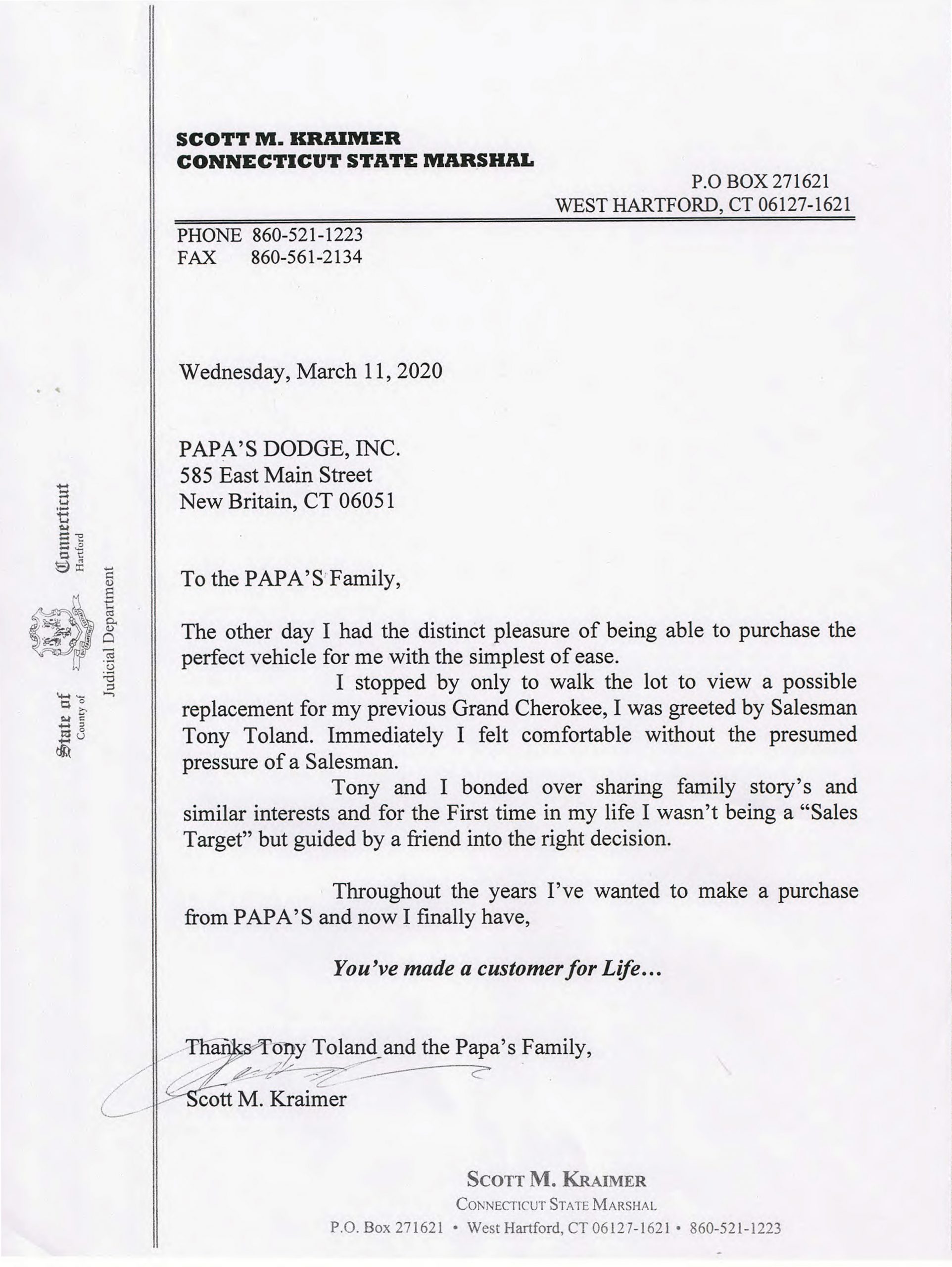 ---
I just wanted to share how great my recent experience at Papas was.  I have been driving for twenty-two years and my first car at age sixteen was a Datsun 200sx and I have bought many cars (and pickup trucks) since so I have had all kinds of car buying and dealer experiences.  Most have been good, a few were not very good, and a few were excellent however my experience at Papa's was my very best and the most fun.
I reached out to Frank Greg via email asking him to schedule a test drive of a sweet looking Velvet Red Grand Cherokee with black rims that I had seen on your lot early a few Sunday mornings ago.  I asked him respectfully for "a non-pressure salesperson that knew the Grand Cherokee product."  He not only provided me that but he provided me an absolute gentlemen in Marty Mattei.
Not only was Marty knowledgeable and absolutely no pressure and knew the Grand Cherokee inside and out, but he made the entire experience fun, which I believe buying a new car should be.  I am a very detailed and pragmatic person and Marty never lost patience.  He was an absolute pleasure.  He said he "considered me a new friend for life first and my car guy for life second," and he was genuine.  What a great guy and my friend.
Frank was also outstanding.  Another complete gentleman.  He introduced himself right away when he saw me with Marty and worked really hard to make everything work (my trade was complicated) and he also never lost patience, in fact he made me feel welcome and like more than just a customer.
I now a have a really slick, Velvet Red with Black Rims and HID lights Jeep Grand Cherokee and I absolutely love it.  I have been a single Dad with my kids half of the time for over twelve years and I have sacrificed and always put my kids before myself and I felt it was time to do something for myself and it's now in my garage :)
I always say (because I believe it with all my heart) that life is about relationships and everything else is very much secondary.  Frank and Marty are just really genuinely good people and I am grateful to both of them for such a great experience and the exact Grand Cherokee that I wanted (Marty located it for me so I could get it exactly how I wanted).
Thank you for creating such a great business model where it really does feel like you care about your customer.