Papa's Auto Body Repair is done at our location at 724 Allen Street, New Britain, CT.
CALL US AT 860-229-2168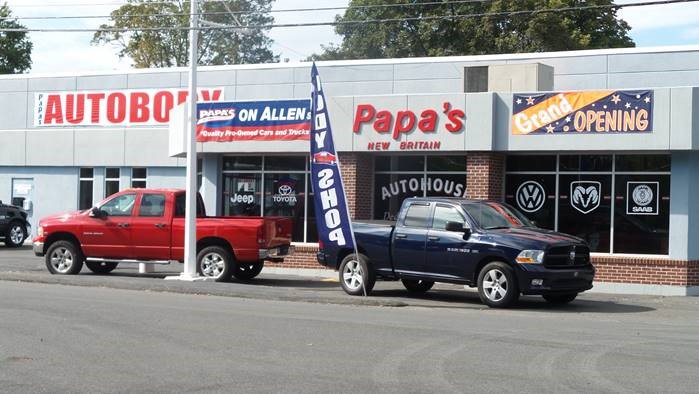 Papa's state-of- the-art Auto Body & Collision Center, located at 724 Allen Street location shares space with Papa's On Allen, our affordable pre-owned vehicle sales center.
All written estimates are free and we work with all insurance companies.
Our friendly and experienced professionals will explain the repair process from start to finish and will answer any questions you have.
We will ensure that the repair process is hassle free and can handle the insurance claim by working with the appraisers on your behalf and can even get you a rental car if needed.
WE KNOW COMMERCIAL:
Papa's has the equipment and space to work on all sizes of commercial vehicles.
We use a commercial size spray booth 40' x 18' x 20', high pressure washing and dustless blasting. Our experienced technicians can correctly repair and paint large trucks and commercial equipment where most facilities can't.
From trucks, semi's, excavators, bulldozers, backhoes, farm equipment and even golf carts, large or small we fix them all. We repair box truck side and roof panels including doors, hoods, fenders, bumpers and more.
All of our auto body and paint repairs are guaranteed for as long as you own your vehicle. That is the way it has always been – we stand behind all of our work.
Choose Papa's Auto Body & Collision Center to have a scratch or dent or minor or major body repair made to your vehicle. You can trust Papa's Auto Body to take care of everything and get your vehicle back on the road again.
AUTO BODY TESTIMONIALS
"Brought my 2011 Challenger, my pride and joy in to be repaired. From the moment I got there I was greeted by Rick who looked at the damage and provided me with a quote. I would simply like to say that not only am I extremely pleased on how my car came out but extremely happy with the no hassle service I received. Thanks Papa's … will never go anywhere else." – James
"Had a family fender bender happen in my driveway to my 2015 Jeep Cherokee. I am leasing my car and wanted to be sure the body work was done right. Papa's Auto Body was great to work with and my car came out beautiful! Highly recommend!" – K.