The service experience at Papa's just got an upgrade.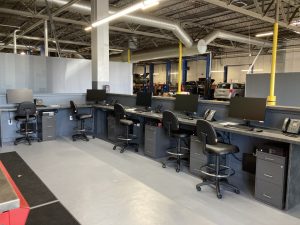 Need something quick done for your vehicle in between all your other busy errands? We're excited to welcome you in to visit our all-new Service Drive at Papas Chrysler Dodge Jeep Ram. As you can see, we're staffed up and ready to help you squeeze in an oil change, tire rotation, or inspection. Our factory trained technicians can do it all—and do it all efficiently—meaning you'll get the express service you're looking for.
Prefer to stick around for a while? For your convenience and comfort, we offer a comfortable waiting lounge with free Wi-Fi, Strong's Diner, shuttle services to surrounding towns, early bird drop off services and the Papa's Speed Shop stocked with novelty items and accessories.
Visit our website today for service hours and don't hesitate to contact us to set up your expectations for service when it comes to our new Service Drive. We're still offering convenient service scheduling at our website if you prefer that option instead. Either way, we'll have all your service needs covered at Papa's this month just in time for driving season!